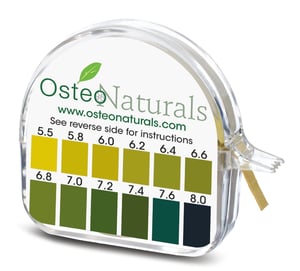 From Micro Essential Laboratory, this premium quality pH paper measures the pH of solutions such as saliva and urine in the range of 5.5 - 8.0. The paper is accurate to 0.2 to 0.3 pH units and is ideal for self-testing morning urine pH, an important indicator of the body's acid/alkaline balance.
Each dispenser holds 1 roll, 186" long and provides for approximately 100 tests. Recommended usage: Simply tear off a small strip of pH paper, dip into the test solution, then instantly compare the resulting color with the matching pH color chart.
* All information on this web site is for informational purposes only. Products on this site are not intended to diagnose, treat, cure or prevent any disease or condition. Please contact a medical doctor to diagnose and treat any medical condition.